Best albums of 2012:
Great genre records:
Flying Lotus - Until the Quiet Comes
Godspeed You! Black Emperor - Allelujah! Don't Bend, Ascend!
Burial - Kindred EP
The Men - Open Your Heart
Sharon Van Etten - Tramp
Grimes - Visions
Beach House - Bloom 
Alt-J - An Awesome Wave
Near-masterpiece tier:
The Eastern Sea - Plague 
Matthew Dear - Beams
Purity Ring - Shrines
Delta Spirit - Delta Spirit
Masterpiece tier: 
Frank Ocean - Channel Orange
Fiona Apple - The Idler Wheel… 
Kendrick Lamar - good kid, m.A.A.d city 
It is 2 AM and I got maybe two hours of sleep last night and I haven't eaten anything resembling a real meal in three and a half days. But I just got home from what I think is my fifth Mountain Goats show and all my body is capable of doing is writing about it. 
A couple of friends that'd planned on going to the show bailed at the last minute and I invited along another friend that had heard no Mountain Goats before today, and he came. I did not know what to expect; the Mountain Goats are not a band one casually gets into. They are a band that grabs you by the throat and the only way to get them out is to shout their lyrics as loudly as you can, wherever you may be. 
The newcomer left mid-show, but I who have been grabbed by the throat can tell you this: the Mountain Goats do a live show that is nothing short of transcendent. They open with some tracks off the new record, and the crowd listens in hushed awe for a while before joining in on every word a few songs in. 
The band transitions to some songs from The Sunset Tree, and John Darnielle (the band's frontman and songwriter) explains that the songs are about the rush of conflicting emotions that happens when the person that has abused you dies. I think about law school and imagine that this is how I will feel in a year and a half. I shout along. 
The middle of the set, as is custom, is a mini solo set with just John and his guitar. He starts out this section with Absolute Lithops Effect, an obscure, mopey track from a record that came out before my thirteenth birthday. The crowd is silent, every eye watching in rapt attention. He opens another song with a brief monologue about an emergency room trip in Sweden for chest pains. The doctor told John that he had Lutheran's disease, because he felt as though he had to pay now for the things he had done in the past. John explained to the doctor that he was Catholic, to which the doctor replied, "But they are the same thing." I look over at my best friend, also named John. He grew up Lutheran, I grew up Catholic. We share a laugh. 
Eventually the band comes back. A few songs later John introduces them one by one before returning to himself and finishing with, "and I am Jacques Lacan, and this song is called 'In Memory of Satan'." They rip through a few more songs before ending their set. The first track of the encore is "San Bernardino", a warm number about a couple welcoming their first child into the world. The song is different than on the record, and it's been long enough since I've heard it last that I can't quite recall what it's titled despite knowing every word by heart. It's the feeling of coming home after college and seeing an old high school friend whose face looks completely different but still retains some intangible familiarity. The encore ends with "This Year", the anthem of of all my Decembers. I am in the waning days of what I will probably look back on as the worst six months of my life, but for a moment I am shouting "I am going to make it through this year if it kills me" and nothing in the world can take that determination away from me. 
After the show, I head to the merch table to get something signed. As I wait in line, I hear John talking with fans about the very first Mountain Goats show I ever saw, four years ago in Austin. I remember that show for John's performance of "Moon over Goldsboro" in his solo set - a sparse, desperate song that simply wouldn't work live without an entirely silent audience. You could have heard a pin drop, and to this day it remains one of my most memorable moments at a show. John recalls this performance several times as I wait in line, and it touches me that he remembers it so well despite having played a couple hundred shows since then. 
Standing in line, I am going over in my head all the things I want to say to John when I meet him. I want to tell him I appreciate that he gives shout outs to Amy Grant, one of my mother's favorite artists to play in the car when I was young. I want to tell him about how I got my sister into The Mountain Goats, about how I'd been asked to write her a letter with some advice and some scripture for a Catholic retreat she went on and how I, since I don't know much scripture, used Mountain Goats verses instead. I want to tell him thanks for the show and for all his music has meant to me over the years.
As I step up to meet him, I smile and hand him the item I'd like signed. My heart is pounding and I'm sure it's rattling the thick jacket I'm wearing. I open my mouth to say something and all I can manage is a thanks. I move to shake his hand, and he holds it in his for a moment instead, thanking me back. And in that moment, I have all I need. 

Setlist: (* denotes John Darnielle solo)
White Cedar
Amy, or Spent Gladiator 1
Love Love Love
Up The Wolves
Until I am Whole
You or Your Memory 
Absolute Lithops Effect*
Baboon*
Rotten Stinking Mouthpiece*
Black Pear Tree* 
Never Quite Free
The Diaz Brothers
In Memory of Satan
Cry for Judas
First Few Desperate Hours
Psalms 40:2
Spent Gladiator 2

Encore:
San Bernardino
Transcendental Youth
This Year  
As a fan of indie music, I'm all too aware that the hallmark of hipsterism is the "I was into them before they were cool". That hasn't kept me from doing just that with First Aid Kit. I was there when they landed a record deal solely on the strength of an excellent youtube cover of Fleet Foxes' "Tiger Mountain Peasant Song". I was there when they played their first big show here in the States - a mid-afternoon set at ACL a year or two ago which showcased a band moving beyond its success with other bands' work and creating their own oeuvre.
A lot of the talk about the band is dedicated to the seeming contradiction between both members' youth and the music they produce, but that argument is beginning to lose traction. Johanna Soderberg, who takes the lead on most of the record's tracks, is 21 now and two albums into her career as a musician. While The Lion's Roar is definitely bigger and more dynamic than its predecessor, there are still some trademarks of immature songwriting. Often it sounds like a lyric was written for its meter rather than its content, and there are a great deal of choruses whose emotional weight is undermined by an empty cliche.
Fortunately, that doesn't prevent the album from working. Soderberg's voice has an ageless quality made bigger by excellent production from Mike Mogis (of Bright Eyes). Particularly outstanding is "Emmylou", which channels a history much deeper than First Aid Kit's own. The album ends with "King of the World", with Conor Oberst guesting and co-writing. The track would have been filler on a Bright Eyes record, and its appearance here serves as a reminder to listeners that Oberst's phoning it in is on par with First Aid Kit's average effort. The good news, of course, is that there are a quite a few tracks on the record above that benchmark, and it looks like First Aid Kit are here to stay.
Grade: B+
By now, The Big Pink have established their schtick - booming lo-fi pop anthems covered in reverb. Future This doesn't deviate much from that norm, much to its detriment. While any of these tracks might sound huge bookended by slower numbers, the lack of any dynamic range whatsoever really hinders their impact. A few tracks in and they're almost boring. It's a real shame, given that some of the tracks - particularly "Rubbernecking", the only point at which the record truly hits its stride - showcase some real songwriting chops. By the time the record ends with "77" the effect is so far gone that what should have been a dramatic bang ends up a closing whimper. Final verdict: there are a few good singles, but this is certainly not great as a record.
Grade: B-
Their most prolific days behind them, it feels like The Roots are transitioning to a band much later in its life cycle, content to clock in at their daily grind as the house band on Fallon and serve as elder statesmen of hop-hop. Read a brief description of undun - a concept album following a dude's postmortem reflections on his tragic life in urban poverty - and it's a bit jarring. While The Roots' musical approach is a bit atypical for the genre, thematically this seems to be dangerously close to a tired retreading of genre tropes. And Black Thought's lyricism here, while solid, fails to offer anything that hasn't been said a thousand ways before. Thankfully, even though it feels like the band is getting a little comfortable in its old age thematically, they continue to push themselves musically. Questo's drumming is fantastic, and there are some great hooks, like lead single "Make My". The album picks up steam near the end, with Dice Raw guesting for the album's best verse on "Tip the Scale" ("A lot of n*ggas go to prison / how many come out Malcolm X?"). The record ends with a four-part orchestral mini-suite that collapses on itself in a clatter of noise, a bold musical move that cements undun's unresolved tone. It's a bold musical move, but the fact that the album's last few tracks are instrumental is telling: The Roots are one of the best musical acts in hip-hop, but their lyricism leaves a lot untold.
Grade: B+
Okay, finally getting around to following up on my last post. Here are my favorite tracks of 2011. More posts in the near future.
10. Bright Eyes - "Shell Games"
9. Cass McCombs - County Line
8. Shabazz Palaces - Recollections of the Wrath
7. Destroyer - Kaputt
6. The Mountain Goats - Outer Scorpion Squadron


5. Das Racist - Michael Jackson
4. tUnE-yArDs - Bizness
3. Bon Iver - Holocene
2. John Maus - Hey Moon
1. Glen Campbell - A Better Place
It's been a while, tumblr. I'm documenting here my best of 2011 in music, and will probably be posting more frequently in the future. For now, though, my favorite albums of 2011:
10. tUnE-yArDs - w h o k i l l
The buzz about this album on the interwebs is all about Merril Garbus' creativity and energy as a musician, and there's definitely no shortage of either on this record. What's so striking about w h o k i l l, though, is the way that the songwriting - as unique and bizarre as anything released this year - doesn't overshadow the album's political content. "There's a freedom in violence I don't understand," she exclaims on "riotriot", an angry song about police violence that might seem out of place from any other white girl. For Garbus, though, it's not a bit out of place.
9. Real Estate - Days
As much time as I dedicate to listening to pretentious and complicated records, every now and then I'll find myself head over heels for an unabashedly simple pop record. Days is certainly not complicated, and it's not treading any new ground, but it is nonetheless dreamy and enjoyable. Most of its sounds are recycled late 80s pop melodies and shoegaze guitars, all channeled through a dreamy, nostalgic haze that feels like the first time you took a walk around the neighborhood with The Smiths playing from your CD Walkman.
8. Cities Aviv - Digital Lows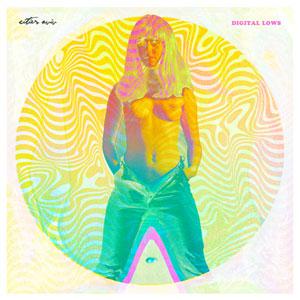 In a year where it feels like rap has reached a nadir of self-obsessed indulgence (here's looking at you, Jay-Z), it seemed like 2011 was the perfect setting for the emergence of a new indie critical darling in the rap world. Why that didn't happen is beyond me. Digital Lows has all the makings of what that record would look like - smart samples, a detailed attention to production, and a flow that manages to focus on a holistic story while still giving us a few facebook-status-worthy lines ("In this city full of fake Rick Rosses, I rock Cuban link chains and inverted crosses.") Here's hoping his next release gets the credit it deserves.
7. Radiohead - The King of Limbs
Speaking of surprises… you guys know Radiohead put out an album this year? The King of Limbs seemed to pop up out of nowhere this February and was mostly forgotten within a month of its release. While their last record seemed to be a return to the band's guitar-rock roots, TKOL is, well, difficult. Listening to the drum tracks often feels like reading one of William S. Burroughs' cut-up letters. From any other band but Radiohead, this would have been a radical departure. For Radiohead, though, nothing seems to be surprising enough anymore.
6. Fleet Foxes - Helplessness Blues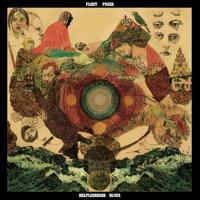 If Sufjan Stevens' The Age of Adz taught us anything, it was that you can't do precious forever. And while the Fleet Foxes' debut was full of gorgeous harmonies that evoked the Beach Boys and all that, well… how many people out there really like a Beach Boys album not named Pet Sounds? Helplessness Blues sees the band refining their sound and keeping the honest-feeling folk core of their production while delving into the feeling of alienation hinted at in their debut. Just how far they take that feeling - like the sax noise solo mid-record - is a welcome surprise.

5. James Blake - James Blake
I could only resist this record for so long. Turns out James Blake shares my resentment for most of what the frat guys around here refer to as "dubstep", and his debut LP really shows it. Eschewing his earlier work's electronic leaning for a quieter, more spacious vibe, Blake's debut proves that electronic music - even in its most maligned subgenres - can still be about nuance and good songwriting. Blake's illustrated his appreciation for singer-songwriters by covering Feist and Joni Mitchell and collaborating with Bon Iver's Justin Vernon this year.
4. Bright Eyes - The People's Key
It felt oddly appropriate earlier this year when Conor Oberst declared he was retiring the Bright Eyes moniker after one last record. I was moving on, too – starting law school, cutting my hair. The People's Key finds Bright Eyes at last fully emerging from the hazy folk of its earlier records to put out an album that's musically all over the place (including the thrash-metal "Jejune Stars") but somehow fits together. And while Bright Eyes - like me - has moved on from its mopey bedroom origins, but that doesn't mean the record's short on emotional content. Oberst ruminates on the nature of love in "Shell Games" and a friend's suicide in the under-discussed "Ladder Song". If this truly is the last Bright Eyes record, they've certainly left us on a good note.
3. The Weeknd - House of Balloons
Ask anyone with a modicum of taste who their 2011 rookie of the year was, and they'll tell you The Weeknd. The Drake connection helped him blow up, but I'm convinced the music speaks for itself. With R. Kelly-esque vocal acrobatics and some absolutely killer production, House of Balloons was a debut mixtape from an unknown that felt every bit as fully-formed as any R&B album this year. And he's only picking up steam - the third record in this trilogy, Echoes of Silence, opens with a pitch-perfect cover of "Dirty Diana" that takes vocals that even sound like Michael Jackson and stretches them to a debauched extreme the way it seems only The Weeknd can.
2. Shabazz Palaces - Black Up
This is about as post-modern as hip-hop gets. There's the track titles, of course, which read like ee cummings on a Chinua Achebe binge. The album's production never quite settles down, earthshaking bass disrupted by frenetic, scattered drum fills. Then there's the lyricism - pitch-perfect stream-of-consciousness that builds an almost hypnotic tone from call-and-response. That call-and-response is intentional, of course - Black Up is very much a record about race, though it's far beyond the scope of this blurb to discuss that (or how great this album is) in the depth it deserves. You'll have to check it yourself.
1. Bon Iver - Bon Iver, Bon Iver
If ever there was a year with an easy pick for record of the year, it's 2011. Bon Iver, Bon Iver takes the one-man mythos of the group's last record and throws it out the window for a massive ensemble (including Colin Stetson, best saxophonist alive) that massively expands the sound palette while still consisting of songs as intensely personal as the last record. My heart breaks a little every time I hear the opening line of "Holocene" - "Some way, baby, it's part of me, apart from me." This seemed to be the year of Bon Iver - "Holocene" was one of my favorite tracks, and the group played what was probably the best show I have ever seen. More of that in the coming week.